faculty
Joseph Mikhael, MD, MEd, FRCPC, FACP
Professor, Applied Cancer Research and Drug Discovery
Translational Genomics Research Institute (TGen), City of Hope Cancer Center
Chief Medical Officer, International Myeloma Foundation
Consultant Hematologist and Director, Myeloma Research, Phase 1 Program
HonorHealth Research Institute
Adjunct Professor, College of Health Solutions
Arizona State University
Phoenix, Arizona
Krina K. Patel, MD, MSc
Associate Professor
Department of Lymphoma-Myeloma
Division of Cancer Medicine
University of Texas
MD Anderson Cancer Center
Houston, Texas
Program Overview
Multiple myeloma (MM) is the second-most common hematologic malignancy in adults aged 40 years or older in the United States. Outcomes in MM have improved following the introduction of therapies such as proteasome inhibitors (PIs), monoclonal antibodies (mAbs) directed against myeloma cell surface antigens, and high-dose therapy with autologous hematopoietic stem cell transplantation. With treatment, patients can enter remission. Despite these advances, MM is considered incurable, and unfortunately, patients do not respond uniformly to treatment. They eventually relapse and become refractory to multiple lines of treatments. New targeted therapies are designed to exploit the differences between normal and cancer cells. B-cell maturation antigen (BCMA) overexpression and activation are associated with progression of myeloma. Because of this, BCMA has emerged as an effective target for MM and has spurred development of 3 types of novel BCMA-directed therapy: antibody-drug conjugates, chimeric antigen receptor (CAR) T-cell therapy, and bispecific antibodies. Lifting the Bar in Relapsed or Refractory Multiple Myeloma: Capitalizing on BCMA-Directed Therapies will give oncologists and other cancer care professionals the foundational knowledge to select appropriate BCMA-directed therapies, educate patients and caregivers about adverse events, and coordinate care to improve outcomes. This CME Circuit Training™ activity is designed to build your clinical management muscles. Utilizing a unique multimedia platform that consists of 4 brief circuits, our faculty will guide you through a series of "workouts" that will boost your endurance and strengthen your expertise in managing relapsed or refractory multiple myeloma.
Target Audience
The educational design of this activity addresses the needs of hematology and medical oncology clinicians involved in the management of multiple myeloma.
Educational Objectives
After completing this activity, the participant should be better able to:
Describe the rationale and advantages of BCMA as a therapeutic target in MM
Compare the efficacy and safety profiles of available and emerging BCMA-directed therapy in MM
Incorporate BCMA-directed therapies into management strategies for patients with RRMM based on current disease presentation, functional status, and past treatment response
Individualize treatment for patients with RRMM to reflect minimal residual disease status, shared decision-making strategies, and patient preferences
Physician Accreditation Statement
This activity has been planned and implemented in accordance with the accreditation requirements and policies of the Accreditation Council for Continuing Medical Education (ACCME) through the joint providership of Global Education Group (Global) and Integritas Communications. Global is accredited by the ACCME to provide continuing medical education for physicians.
Physician Credit Designation
Global Education Group designates this enduring material for a maximum of 1.0 AMA PRA Category 1 Credit™. Physicians should claim only the credit commensurate with the extent of their participation in the activity.
Nurse Practitioner Continuing Education
This activity has been planned and implemented in accordance with the Accreditation Standards of the American Association of Nurse Practitioners (AANP) through the joint providership of Global Education Group and Integritas Communications. Global Education Group is accredited by the American Association of Nurse Practitioners as an approved provider of nurse practitioner continuing education. Provider number: 110121. This activity is approved for 1.0 contact hour (which includes 0.1 hour of pharmacology).
Instructions to Receive Credit
In order to receive credit for this activity, the participant must score 75% or higher on the posttest and complete the program evaluation.
Global Contact Information
For information about the accreditation of this program, please contact Global at 303-395-1782 or cme@globaleducationgroup.com.
Fee Information & Refund/Cancellation Policy
There is no fee for this educational activity.
Disclosures of Relevant Financial Relationships
Global Education Group (Global) adheres to the policies and guidelines, including the Standards for Integrity and Independence in Accredited CE, set forth to providers by the Accreditation Council for Continuing Medical Education (ACCME) and all other professional organizations, as applicable, stating those activities where continuing education credits are awarded must be balanced, independent, objective, and scientifically rigorous. All persons in a position to control the content of an accredited continuing education program provided by Global are required to disclose all financial relationships with any ineligible company within the past 24 months to Global. All financial relationships reported are identified as relevant and mitigated by Global in accordance with the Standards for Integrity and Independence in Accredited CE in advance of delivery of the activity to learners. The content of this activity was vetted by Global to assure objectivity and that the activity is free of commercial bias.
All relevant financial relationships have been mitigated.
The faculty have the following relevant financial relationships with ineligible companies:
Joseph Mikhael, MD, MEd, FRCPC, FACP Consulting fee: Amgen; Bristol Myers Squibb; GlaxoSmithKline; Janssen Biotech Inc.; Karyopharm Therapeutics; Sanofi; Pfizer, Inc.; Takeda
Krina K. Patel, MD, MSc Consulting fee: Archellx; Bristol Myers Squibb; Janssen Biotech Inc.; Karyopharm Therapeutics; Legend Biotech; Merck & Co., Inc.; Oncopeptides; Pfizer, Inc.
Trena R. (patient): Nothing to disclose
The Global and Integritas Communications planners and managers have nothing to disclose.
Disclosure of Unlabeled Use
This educational activity may contain discussion of published and/or investigational uses of agents that are not indicated by the US Food and Drug Administration. Global Education Group (Global) and Integritas Communications do not recommend the use of any agent outside of the labeled indications.
The opinions expressed in the educational activity are those of the faculty and do not necessarily represent the views of any organization associated with this activity. Please refer to the official prescribing information for each product for discussion of approved indications, contraindications, and warnings.
Disclaimer
Participants have an implied responsibility to use the newly acquired information to enhance patient outcomes and their own professional development. The information presented in this activity is not meant to serve as a guideline for patient management. Any procedures, medications, or other courses of diagnosis or treatment discussed in this activity should not be used by clinicians without evaluation of patient conditions and possible contraindications or dangers in use, review of any applicable manufacturer's product information, and comparison with recommendations of other authorities.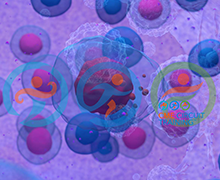 Lifting the Bar in Relapsed or Refractory Multiple Myeloma
Capitalizing on BCMA-Directed Therapies